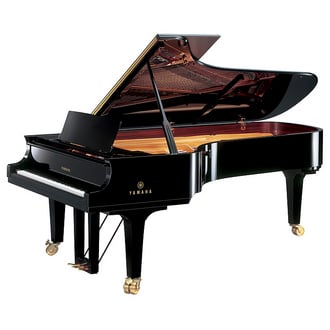 I was reading a novel the other day when my wife popped in to remind me our son, who is 12 and our daughter, 11, needed something besides video games in which to invest their time. I agreed, asking what she had in mind. Well, how about a Yamaha? I gawked, asking if she meant the Yamaha? Sure, she shrugged, it's the best model, isn't it?
She drove and I asked if she was sure this was a good idea. She had apparently done some research, informing me the president of this company was a fourth generation dealer who had been in a rock band when he was 13, that the staff knew their business, and they offered the Sevicebond Assurance Program which meant a free visit a few months after purchase to tune your Yamaha to ensure premium sound. And, she added, they are a lot more affordable than any other company!
Now, I loved that my practical wife was thinking Yamaha, asking if she thought we could afford two Yamahas. No, she said, one would be plenty and the kids could share. What size, I wondered, what model? The G2, she responded, maybe a Yamaha Grand in the Conservatory Classic line. Wow, she really knew her stuff! And you're not afraid of the kids getting hurt? She laughed, reassuring me that some of the healthiest, smartest people in the country had learned on a Yamaha Grand Piano. Oh, that Yamaha!

We arrived, entering a store filled by these beautiful, shining instruments on coaster wheels. We were at a Cooper Music Store! Although I felt like we were in an exclusive exhibit hall but my wife seemed right at home and the fellow who met us seemed quite earthy. We discussed my wife's initial choice for our Grand Piano but I must admit being moved by the Concert Collection and the Classic Collection was stunning! I was getting into it now, asserting my opinion on the glimmering American Walnut while my wife preferred Polished Ebony. We compromised by choosing a glowing Mahogany Yamaha Grand Piano. I thought we were going for a risky fad and had made a lifetime purchase for our family!
Cooper's Music has a credo: Build a Better World Through Music Education and my wife had taken that first step by consulting cooperpiano.com! The kids, by the way, have put aside their video games.