Liberty Theatre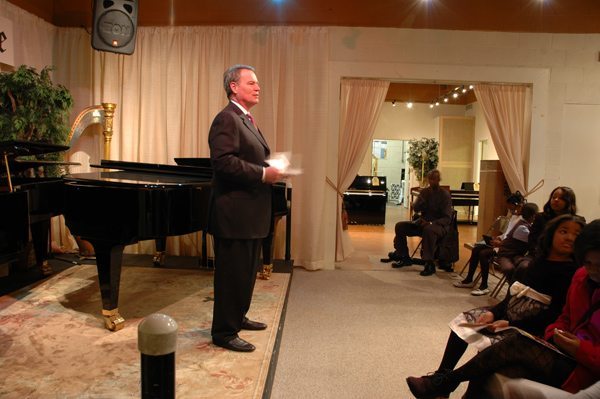 Cooper Piano's store is also home to the Liberty Theatre, a music hall where world-renowned concert artists perform and children recitals take place. We are not currently renting the theater.
Don Discenza Quartet
---
The Liberty Theatre at Cooper Music and the Peggy Still School of Music featured the Don Discenza Quartet in an evening of jazz recently. The quartet; Don Discenza on piano, vocals and Hammond B3 organ, TIM AUCOIN- Bass, JERRY FIELDS – Drums / Percussion, DAVE FRACKENPOHL – Guitar. The appreciative audience was treated to a selection of jazz classics performed by world class professional musicians and all had a great time.
Penelope Williams
---
Penelope Williams performed at the Liberty Theatre at Cooper Piano. An appreciative audience enjoyed her jazz expressions, with Dan Coy on guitar and James Cage playing trumpet. From classic jazz tunes to music she's written with an uplifting, spiritual emphasis, her energy was high and filled the room with happiness.
Ted Howe
---
Pianist, jazzman Ted Howe played a Christmas Concert at Cooper Music's Liberty Theatre. He was joined by fellow super jazz greats Neal Starkey, bass; Jerry Fields, percussion/drums; and Theresa Hightower, vocals. The group and Ted's arrangements lifted the classic holiday tunes to a new high.