Our History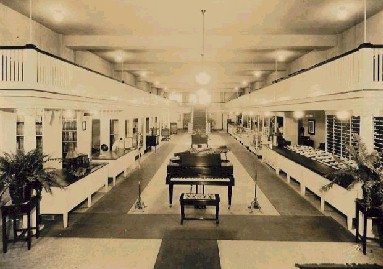 Dispensers of Happiness Since 1906
To some people, a job is something that pays the bills. However, to Blake and Jolie Cooper the job is more; it's their life. Blake and sister Jolie are the fourth generation of Coopers to own and operate Cooper Music, one of America's largest and most respected piano retailers.
It's only logical that music would be more than a job for this generation. Blake, who was a bass player and singer in numerous rock bands in his youth, began working at age ten when the family store was in New Kensington, Pennsylvania. At that time Cooper Music sold virtually everything music related. Blake, who became company president in 1991, recalled  "We did it all then. Whatever ever was hot we sold; guitars, organs, bongo drums, it was all there. We offered everything musical." Blake recalls sitting in the boiler room of the Cooper building cleaning horns upon their return from rent while Jolie designed and painted store interiors after school. Not exactly glamorous work, they admit, but it showed them how to care for customers… and how owners must be ready to perform any job. That goes with the territory.
In 1906 Jonathan Cooper founded the business, known as Cooper Brothers Inc. A former coalmine carpenter, he utilized his woodworking skills to craft and sell pump organs. Then, year-by-year, new products (including pianos) and services (such as restoring them) were added. The growth of Cooper Music always had been evolutionary; creating a solid foundation that carried the company through good times and bad. Economic changes in the industrial north coupled with great business opportunities in the south brought the company to Atlanta.
Even today that ability to change with the times has served Cooper Music well. For instance, Blake Cooper attributes his company's current success to a decision in the early 1990s to pull back from mall stores of the 1970s and '80s, and place renewed emphasis on pianos, organs, as well as teaching programs such as Music and Wellness.
Why the shift? "Actually, the company always has done well with its piano business," Cooper explains. "Even during the Great Depression and World War II, when new instruments were rare or nonexistent, our restoration business really began to grow. Most people didn't have the money for a new piano… even if they could have found one. Restoring the piano you already had was the alternative."
The art of restoring superbly crafted antique pianos still holds a special place at Cooper Music, now the Southeast's largest piano restorer. "I love those old pianos" says Cooper! "They are unparalleled in detail and quality craftsmanship. It's an incredible feeling to see those amazing instruments come back to life."
Blake Cooper, seeing how the business had changed, knew that a shift in product strategy was needed if Cooper Music was to grow. That's when he consolidated the company's operations, folding the mall stores into one 10,000 square-foot superstore with three showrooms, a rental department and concert hall. There are numerous studios for group and private music lessons. Soon to come were branch Music and Wellness teaching studios.
"The main reason this century old company has survived has been our family's willingness to change" says Cooper. "I guess it's a family tradition that started with my grandfather, who in the north, used to sell boats in the summer when the music business slowed down. We've always been able to tighten our belts when necessary."
Today consumers can browse through a huge inventory of new, used, and restored pianos, as well as digital pianos and church organs. With about 30 brands on hand, Cooper Music is the exclusive dealer for displaying the largest selection of pianos and organs in the Southeast.
A shining star of Cooper Music's game plan is the Cooper Music Rental Program, which Cooper expanded shortly after taking the company helm. This program allows people to rent any piano they like and try it out at home, for a monthly fee as low as $25.
"With the pace and changes in lifestyle, we find people have increased the desire for life's finer things…including pianos," says Cooper. "This program makes that desire affordable. Research has proven the value of music in childhood brain development. The Cooper Rental Program is ideal for parents who want to give their child an opportunity to play the piano before leaping into a major investment. Later, if a customer decides to buy the instrument, rental fees can be applied toward the purchase. There is no purchase obligation or time limits."
Another exciting addition to the Cooper program is Cooper's Lowrey Organ Center, group lessons for seniors who enjoy music. Attracting hundreds of seniors each week, the adult music and wellness keyboard classes grow in popularity. In addition to an enjoyable… and life-enhancing hobby, participants can make new friends with galas that include pot luck dinners and a musical programs.
"Music is therapeutic for all kinds of physical and mental ailments," says Cooper  "It makes life worth living for many people, including myself." That's part of the reason why Cooper shares this healing gift by donating pianos and organs to area churches and retirement homes.
Cooper Music also provides customers with services and policies such as free in-home tunings, free in home concert, money back guarantees, service satisfaction, and free exchange within 30 days to ensure their complete satisfaction. Cooper's philosophy is "Follow a simple creed for doing business: customers first, employees second, and myself last."
This "customer first" philosophy seems to be working. The company's annual sales soared from $2.2 million to $6.1 million between 1993 and 2003. And most of the company's business comes from referrals. Why do people take the time to tell their friends and family about Cooper Music Company? Blake Cooper believes it's because the company has maintained the personal attention people expect from a family-owned business. " People deal with our employees a lot of the time, but they also know they can always talk to a Cooper family member as well."
Third generation, David Cooper and his wife, Jean, still keep a hand in the business as consultants. Blake's sister, Jolie, is the CFO. Moreover, company president Blake makes himself available to talk to his customers whenever they have a problem or question. The Coopers may not know everyone in the city by name-as they did in western Pennsylvania, but they still believe in treating customers like old friends… like part of the family.