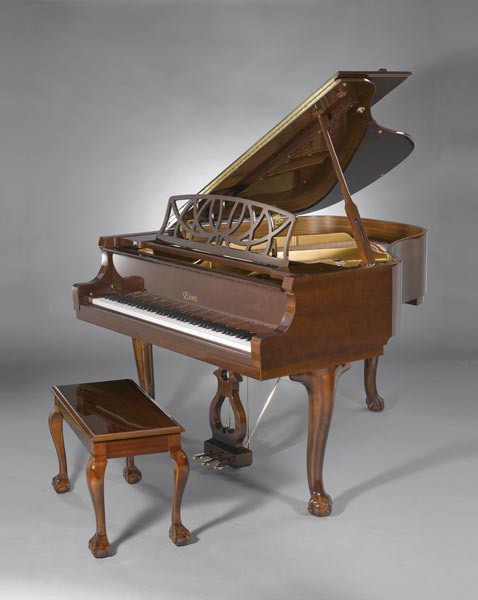 There are piano brands people have heard about and then there are brands that cause your fingers to tingle. Steinway pianos is one of those trademark names that have that effect on piano players. Any piano musician would love the opportunity to sit before a Steinway piano and play their favorite melody. Simply writing this, makes me want to play.
Founded in New York City in 1853 by German immigrant Heinrich Engelhard Steinway, A Steinway piano is by far one of the most famous piano brands and for good reason. Steinway pianos are built using high quality parts and intricate detailing. They have been recognized with numerous awards since they were first introduced. Steinway Halls, showcasing these beautiful instruments can be found all over the world. It is no wonder why they are the number one top selling brand in pianos. However, with this name also comes a hefty price tag. In order to compare the options, I was curious if there are any Steinway pianos from China.
To my surprise, I found that China in fact does manufacture pianos for Steinway and Sons at Pearl River Piano Group. This is the largest piano manufacturer and factory in the world. The models are listed under the Essex piano line and are produced at Pearl River for substantially less than the Steinway pianos manufactured in New York City and Hamburg, Germany. The pianos built in China are made more specifically for entry level musicians and are manufactured using less expensive parts.
Essex pianos are designed by Steinway using the latest specifications and standards. The Essex brand incorporates many of the Steinway refinements and features that make the Steinway name so popular. Steinway and Sons is committed to producing e
xcellent and quality pianos and therefore they provide on going assistance to China for the production of the Essex brand. This ensures that each piano meets the exact specifications required by Steinway. Furthermore, before leaving the factory the pianos are individually inspected by highly trained and experienced Steinway and Sons technicians, who have a permanent office located in Shanghai, China.
With the Essex brand piano line, there are many options to choose from. Steinway has designed both grand pianos and uprights. For the Essex grand pianos there are two different styles available, including Classic and French Provincial. Likewise, there are two sizes to choose from as well, consisting of the 5'1" EGP-155 model and the 5'8" EGP-173 version. Additionally, they come in a variety of satin luster finishes and both regular and exotic veneers.
The Essex upright pianos are produced using nine different styles and various leg designs. Additionally, they are built with picture framed front panels, decorative music desks and highly molded top lids. The upright pianos include different sizes including the 42" EUP-108 continental version, the 44" EUP-111 console, the 46" EUP-116 studio model and the 48" EUP-123 traditional version. With the variety of styles and sizes to choose from, there is bound to be an
Essex piano that is just the right fit for any home.
Grand pianos made in China may not be built using the same materials as those built in the Steinway and Sons factories, but the quality and specifications are guaranteed to fit the Steinway name. The Essex brand line is the ideal way to get the Steinway name, without having to pay the Steinway price.
If your pocket book can't afford one of the traditional Steinway pianos, the Steinway-designed Essex brand is an excellent choice. With this option, you too can enjoy playing on a Steinway piano in your very own home. Did you know that there were Steinway pianos from China? Have you played one, and if so what did you think of it?