There are many types of pianos on the market, such as baby grands, studios, digital pianos,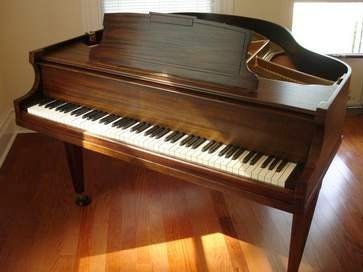 uprights, grands, petites, and many more. You can find new and used instruments, as well as imitations. Additionally, there are different brands and it is rather difficult to establish which piano is the best choice for your budget and needs.
Each brand produces a piano with distinctive tones, unique artisanship and finishes, and faultless condition. One of the best piano brands on the market is Baldwin. Baldwin pianos are very popular, simply because they are professionally made and maintained, and are adaptable to any rooms or sets of needs.
Two Pianos that Are Sought After by Countless Pianists
Baldwin pianos come in various shapes and sizes. Two of the best pianos from the Baldwin Company is the Kranich & Bach vertical (45 ½") and Acrasonic Console (42 ½"). The latter model is an extremely remarkable piano with amazing tonal quality and touch response, whereas the former is deemed the finest piano, mainly due to its rich tonal quality and astounding touch responses.
The aforementioned pianos are well known for bringing out the true pianist in most people. I have sold a number of units and all my clients came back to let me know that they were extremely happy with their purchase. With all my experiences in regards to pianos and music, I believe that I am able to recommend the right piano to nearly all individuals.
Baldwin pianos are a part of the Gibson Guitar Corporation and produced by the largest United States-based piano maker. With the tried and tested pianos that they produce, it is clear that the manufacturers certainly know what to do in order to turn out flawless pianos. The company was founded in 1889 and ever since then; the manufacturers have worked diligently to construct the most excellent musical instruments that could be built. Due to their hard work, the Baldwin Company has won numerous awards from various expositions, such as the Louisiana Purchase Exposition and Exposition Universelle.
The Baldwin Company is based in the United States with headquarters in Ohio and Arkansas. Their facilities produce over 2,000 quality units every year. Each piano is built with precise specifications and has to undergo extreme scrutiny regularly before it is put on the market. The company is known for manufacturing customized pianos for various political leaders, music conservatories, composers, and artists. A number of well-known individuals that own Baldwin pianos include:
– Ben Folds
– Jose Iturbi
– Philip Glass
– Leonard Bernstein
– Igor Stravinsky
What to Look for in a Baldwin Piano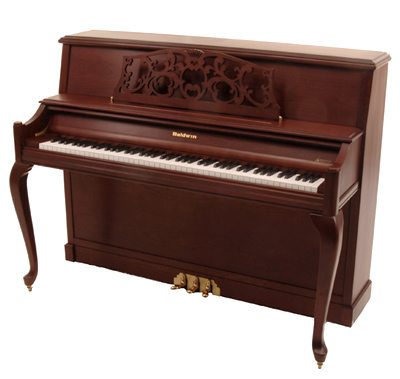 When you are considering buying a Baldwin piano, you should mull over the following:
Touch Response and Feel – You need to ensure that the touch response and piano feel are up to your expectations. This can be determined by testing a few different Baldwin pianos, particularly the above mentioned units. Alternatively, you can ask for assistance from the piano dealer or his sales executives to obtain recommendations regarding the best units to test.
Sounds or Tonal Qualities – Piano players who enjoy creating their own pieces need to purchase a piano that offers remarkable tonal qualities. Many great musicians create their own songs from a grand or an upright piano. They do not need a digital piano to do that.
Piano Size – Before you buy a piano, it is imperative that you ensure you have sufficient space to accommodate the instrument. An upright piano does not necessitate a lot of space, but if you are thinking about buying a grand piano, you definitely need a big enough area to place it.
Cost and Expenses – Bear in mind that buying and maintaining a piano can be relatively costly. You need to be certain that you can afford it, as it requires regular tuning, particularly if you play it on a regular basis.
Which Baldwin piano is your favorite?