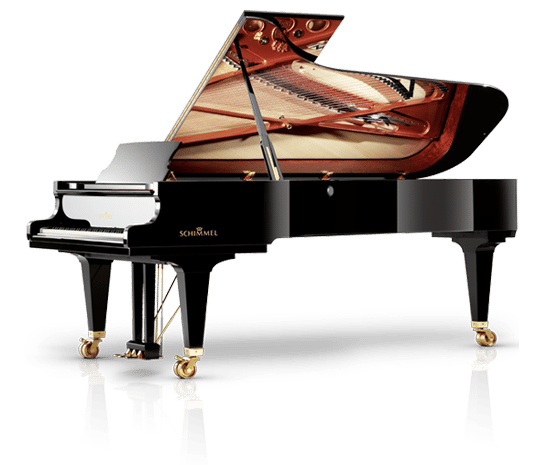 The History Schimmel Piano
Schimmel Pianos was founded by Wilhelm Schimmel in 1885, in Germany. A short time after finishing his training as a piano manufacturer, he created his very own workshop in Leipzig. By 1885, he had produced his very first piano, and by 1894, he had produced over 1,000 quality pianos. Shortly after beginning his piano-making journey, Schimmel won numerous awards at fairs and world expositions. He was even accredited with titles by vendors to various royal houses.
Schimmel always created his pianos with his customer's expectations and desires in mind. All of his customers could feel and hear all of the love that went into his instruments. At the time, they were all made under the highest of standards when it came to quality and sound. In just a few short years, in 1897, the company needed to build a bigger factory to keep up with demand for his beautiful instruments.
The company specialized in different types of pianos: Grand, Upright, and even player pianos (also known as "Kunstspiel pianos"). While Wilhelm retired in 1927, the successful piano company was passed down to his son Arno. He became President of the company while his brother, Authur managed the Schimmel retail store. As President, Arno moved the company's workshop to a different location, in Braunschweig. There, he had a hand in developing one of the major instrument innovations of that era: a smaller piano that lacked back posts, which had extremely unique tonal character.
Arno would become an inspiration in the industry, leaving his imprint on Schimmel Pianos. He completely revolutionized the company's design and manufacturing processes, leading the way to a whole new era of modern, exquisite pianos.
During the same decade, many piano makers were hurting from the recession. Because of the economic suffering, many piano makers formed a co-op. This co-op was known as "Deutsche Piano-Werke AG". Schimmel was a part of this co-op for a few years, until 1931.
Even through hard times, Schimmel Pianos continued to thrive and experience success. By the end of the 1950s, Schimmel was the company whose pianos were most purchased in the entire country. Their pianos were even purchased and sent to locations all over the world.
In 1961, the company was passed down again to another family member. Nikolaus Wilhelm Schimmel became the company's head, focusing on their expansion. In 1967, the company acquired Berlin's May Pianofortefabrik. This purchase, along with increased sales forced the company to construct a new site where Schimmel Pianos' research and development intensified.
In 1979, Schimmel Pianos acquired the piano company, Sabel. Sabel was founded in 1842 and specialized in grand and upright pianos. Based in Switzerland, this piano company was known throughout Europe for their rich sounding instruments and solid workmanship. Sabel was brought into the Schimmel family by Erna Schimmel-Maurhofer, a Schimmel family member born in Switzerland.
Aside from the Schimmel Classical Series, Schimmel developed the Schimmel Konzert Series, over a long period of time; two decades. This new series, along with the Classical Series, cemented their leading position in the piano industry.
In 2003, the company was passed on again to Hannes Schimmel-Vogel. Since 1980, Schimmel has operated from the same factory, producing over 10,000 upright pianos and 1,200 grand pianos per year. In the 1990s, Schimmel Pianos reintroduced the acrylic grand series and has produced several art pianos that were designed by artists, becoming amazing collection pieces.
In 2010, Schimmel Pianos celebrated its 125-year anniversary. There was a special ceremony held in Brunswick Cathedral to commemorate the event, where they also announced the launch of several new instrument models.
Part of this family company's success can be attributed to the family's policy of never sharing its well-kept secrets and traditions with anyone outside of the company or family. Many people believe that this is one of the main reasons behind the company's famed, good quality pianos. Not one other company in the world can seem to match Schimmel Pianos' perfect keyboard assembly, flawless key response, exceptional woodwork, and amazing sound production.
Today, Schimmel Pianos are made both in Europe and China. Those pianos made in Europe are meant for European markets, while pianos made in China are meant only for the domestic market of the People's Republic of China.
While many companies mislead their customers by stating their pianos are made with "German design", Schimmel Pianos still operate and create their pianos in Germany, with the same quality design that they started out with. These pianos are made by artisans who live in Braunschweig and have an unrivaled attention to detail. Schimmel Piano produces the same quality products that won Wilhelm Schimmel's favor to royalty.
Schimmel Pianos' success and quality work can be largely credited to the company's history. Not many companies are managed by direct descendants of original founders. Schimmel Pianos is a true family business and maintains its original quality, excellent production. Part of this equal production ability is due to the fact that the management has always been part of the family. Each new generation holds a strong bond to their family's history of strong, beautiful, quality pianos.