Baby grand pianos are usually a popular option for individuals who want the aesthetic value of a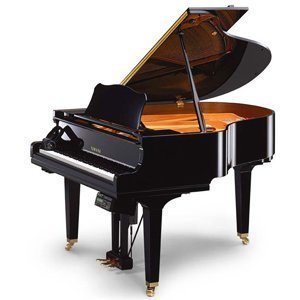 grand piano without utilizing a large amount of space in their house. Additionally, large numbers of people purchase these pianos to save money. Before you make your purchase, it is essential to know what to look for in the piano type that you desire.
Overview of Features
Purchasing a baby grand piano from Steinway or Schimmel is akin to buying any standard grand piano, but with a few dissimilarities. Moreover, the process of purchasing a piano online is unlike buying one from your local store. If you are looking at buying a baby grand piano via my website, the following guidelines may help make the online buying process easier.
Resonance of a Baby Grand Piano
Each piano has its own voice and several factors that affect the resonance are the length of the piano soundboard, the length of the piano strings, and the quality of artisanship. In order to be categorized as baby grand pianos, the unit must be less than 5'6" in length. I can assure you that you can find medium grand pianos that are approximately the same size.
The smallest baby grand piano that you can find on the market is about 4'11" in length. Any piano shorter than this is known as the petite grand piano. The rule is simple – the longer the piano is, the richer the resonance is going to be.
Although the pianos' resonance changes to some extent on new pianos during their first years of use, the difference in voice is instantaneously apparent between the shortest and the longest units. If you are looking for the best voice, it is better to purchase one of the baby grand pianos that are at least 5'4" in length, proviso that you have sufficient space to accommodate it.
Storage for a Baby Grand Piano
Whether the piano will be stored in your home or at another site, it is vital to ensure that the space has excellent temperature control. Individuals who do not have air conditioning systems or the most favorable temperature control should think about buying a dehumidifier for the location where the baby grand piano will be placed.
I often tell my clients that dry air will help their piano keep its tune longer than usual. If the instrument is placed in a room with a high humidity, it is obligatory to tune the piano at least four times a year. For baby grand pianos that are placed in optimal conditions, tuning are only required twice per year more or less. Nevertheless, if you hardly play the piano, you may only need to tune once a year, especially if it is stored optimally.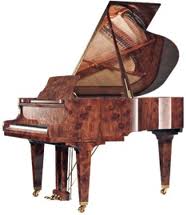 Materials Used for a Baby Grand Piano
Despite the fact, that many individuals buy a baby grand piano for the sonorous sound that it emits, several people buy it for its aesthetic value. The majority of baby grand pianos are constructed from wood, but you will find certain models made from lacquer or fiberglass. I know cheaper models may even be produced by a blend of different materials and they normally have special designs or are normally painted in solid colors.
A luxury baby grand piano may have keys that are made from rare materials, carving on its legs, and consists of various intricate details. For instance, some instruments contain keys that are made from mother of pearl, ivory blends, bone, or another extraordinary material. When you are considering a certain key material, I would advise that you consider the difficulty in getting them replaced. Ceramic keys can crack easily, but they are affordable to replace. If you choose to buy a baby grand piano with mother of pearl keys, know that it would be costly to replace them.
What brand comes to mind when you think of baby grand pianos?