Like many other private schools of music, Gwinnett School of Music offers piano lessons in classical piano, jazz piano, and pop keyboard as well as lessons in violin, guitar, viola, cello, clarinet, saxophone, flute, trumpet, trombone, and voice. In addition to these, they also offer the popular and successful School of Rock program.
Learning to play an instrument or sing with good technique is a good foundation upon which to build a career in music. It is only the first step to success in the competitive world of the music business. The School of Rock program goes beyond basic technique and offers students real world performing experience. According to Kelly Bowlin, owner of the Gwinnett Music School, the program "provides students who have been taking lessons for a year or two the opportunity to hear what the riffs they have been practicing sound like when played with a full band. It's a great motivator. Kids who participate usually experience a leap in progress in their individual instrument and tend to stick to it longer. It's kind of like practicing football for years and finally playing an actual game."
The School of Rock offers 4 sessions per year, three 2-month sessions, and a four-week summer session. Students are grouped according to age into four and five piece combos: bass, drums, guitar, digital pianos, and vocals. They are provided with all the equipment they need. All they have to bring is their instrument.
Students learn how to:
play as a group
sing and play at the same time
create song structure
improvise
The Gwinnett School of Music employs instructors who are not only trained and skilled musicians; many have experience as studio session musicians, playing with well-known acts in the Atlanta music scene. Others have experience with the legal aspects of the music business and can provide insight on contracts and copyright issues.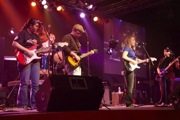 Bands formed during School of Rock sessions have performed at festivals and concert venues around the Atlanta metro area, such as Barefoot in the Park in Duluth and Grillin' on the Green in Snellville. As a graduation from the program the students perform at a family friendly (no alcohol served) event at Wild Bill's, one of the biggest nightclubs and concert venues in the country. For more information on Gwinnett School of Music and the School of Rock Program, visit the website: http://gwinnettmusic.com
Do you like the idea of playing music but just don't have the funds? How about piano rental?
Authored by Clint Clark