Jazz music first originated in the early 20th century. Merging together a mix of African and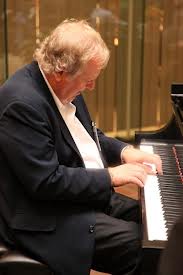 European music traditions to spread worldwide and into the heart of pianist Ted Howe. Listening to every jazz record he could get his hands on, Ted Howe became fond of many. Ranging from Duke Ellington to Louis Armstrong, the keys of jazz were emerging within him.
Beginning the study of jazz in his early teens and continuing at Berklee, Ted became a professor of jazz and one of the top piano teachers in his field.
Ted Howe has been teaching jazz piano lessons, arranging, harmony, and improvisation in Atlanta since 1977. Ted accepts working professionals, music teachers, aspiring kids, teens, and adults, at all levels. His experience at working with such a wide variety of clients, all with different needs and goals, have made him the most sought after, well known jazz piano instructor in Atlanta. With a base here in Atlanta, Ted is available to accept a limited amount of students for private jazz piano lessons. Ted Howe's passion for jazz has never diminished, this making him not only a well-known jazz composer and performer.
Over the years, Ted has continually worked at developing his own method of teaching jazz piano to fulfill the ever-changing demands of his clients. Whether it's a pre-teen, wanting to discover the joys of improvisation, a teen, preparing for acceptance into a college music department, another music teacher, who wishes to offer their clients a more expansive jazz program, or an adult hobbyist who loves jazz, and wants to pursue their long time interest in jazz piano, Ted has the program for you.
Ted's philosophy regarding teaching is based upon the notion that teaching is a service to other
people; it enhances and enriches their lives. With this mindset, the level of a client is irrelevant, you teach because you truly love to teach.
Please visit Ted's web site:
Here you will find lots of information about Ted's musical career, listen to tracks from his CD's, and view videos of his performing. Ted has a comfortable and conveniently located studio at The Cooper Music Wellness Center, 1670 Northeast Expressway, Suite D Atlanta, GA 30329.
If you truly want the best jazz piano instructor in Atlanta, please get in touch with Ted. You can contact him at: ted@tedhowe.com