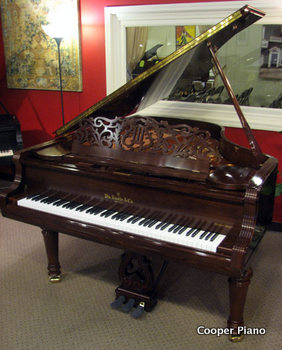 My favorite thing to do in the shower is sing opera. Am I an opera singer? No way! But I sure sound amazing to myself when I sing an aria in that resonant, tile lined, porcelain floored, steamy,
acoustic wonder
. That being said, you'll never catch me singing "Habanera" from
Carmen
in the middle of a football field. Acoustics can make or break a musical performance – they are that powerful. Sound waves have their own environmental preferences and will influence the way your aural sense interprets musical sound – be it a human voice or a
baby grand piano
.
If I'm playing my piano in a space with poor acoustics, it can be incredibly frustrating. All of a sudden, every miniature hiccup in an arpeggio becomes apparent. The non-acoustic space eats up the juicy swirl of lingering notes which can hide, or muffle, occasional mistakes. When I have the good fortune of practicing/performing, in a space with great acoustics, I feel like a star. The sounds are rich and my body fills with the joy of making music. That's why it's so important to make your home, or studio practice room, as positively acoustic as it can be.
Here are some of the things I did to help improve the acoustics for my home practice.
First, I played the grand piano up and down the keyboard with different levels of intensity to hear if any parts of the room (like windows or light picture frames) rattled when I played. Sound waves are powerful forces and when I played certain chords, I noticed a few knick-knacks that were vibrating and became an agitation.
Hard surface floors are best, but too much hard surface in a room can create a cacophony of sound. You can use floor rugs, especially under your piano, to experiment with the sound effects.
Move your piano to different areas of the room (avoiding exterior walls) for the space that sounds best. In most cases, upright pianos should not be placed in corners.
Hang some art! It helps a room look great of course, but it also helps to diffuse and bend sound waves so they aren't harshly reflected.
If you have the luxury of trying an instrument out in the room before you purchase it, you can find the right sound for your space.
Once I made a few acoustic adjustments, my living room became my imaginary concert hall.