When buying a
grand piano
, you might consider a brand of piano or what kind of piano you would like to get to best fit your needs (such as the size of your home and what sound you would like to get from your piano). But equally important is finding a piano dealer that will sell you a good grand piano at a fair price. Here is a good way to know whether your
piano store
is able to meet your needs: Find out what kind of piano prep they are undertaking. That will give you a good benchmark from which to ensure that the grand piano you purchase will function properly and will give you the maximum performance, life and enjoyment!
Piano Prep
Now you might be wondering, what exactly is piano prep and why is it so important that a dealer does good piano prep?
Piano prep is all about getting the piano from its factory or unused state to a place where it is properly tuned and regulated to fit the customer's needs. The concept of piano prep refers mainly to dealers getting piano's from say Germany, Austria or Korea, and needing to adjust their settings as they acclimate to a new weather environment. Pianos are made 80% from wood, as well as other materials like felts, glue and metal, and wood especially is susceptible to change, expanding and contracting when moved to a different environment. Therefore the need to keep pianos 'in shape' by tuning, voicing, regulating and other prep methods.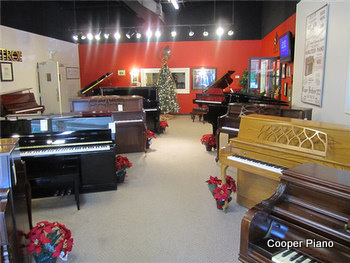 Tuning vs. Prep
Now, note that tuning a piano is NOT the same thing as prepping a piano. To give you an idea, the average basic prep of a grand piano will take 12-20 hours involving things like polish, lubricating, leveling, adjusting hammer heights and more. Tuning is generally a sub-phase of piano prep, and is something that needs to occur 2-4 times a year, but on a piano that has (hopefully) already undergone the proper prep phases. Piano prep then, is a foundation for further follow-up and maintenance of the instrument. A good dealer should and will provide this initial prep and offer you tips on proper maintenance.
So, as you go out looking for that grand piano that will add warmth and life to your home, make sure to look for a dealer that knows and loves pianos, and will help you take care of yours!