Digital pianos are becoming an increasingly popular option for musicians of all ages who want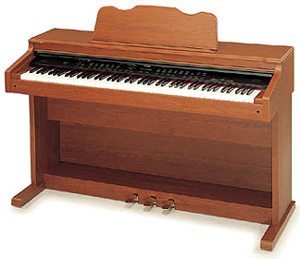 access to a piano, but currently lack the time, location, or income needed to own and maintain a true piano. While technically digital synthesizers, digital pianos have become extremely good in recent years, to the point that the best models can nearly compete with the sound of a full-sized piano.
There are other advantages to a digital piano as well. Due to their small size, digital pianos are much easier to transport, making them perfect for musicians on the go who want a piano sound without having to deal with hauling around a real piano. They're also a good choice for learners, since they typically have key weighting and movement closer to that of an actual piano, unlike most everyday synthesizers.
So today, let's talk a bit about the major brands of digital piano on the market, based on their overall price range. No matter what your budget, there are plenty of digital pianos to meet your needs!
Top Brands Names In Digital Pianos Today
Casio – While probably better-known for their cheap consumer-grade keyboards and other electronics, Casio maintains a professional-grade line of digital pianos as well. Unlike many other electronics manufacturers, Casio owns and maintains their own production facilities, which means even top-grade Casio products are often far less expensive than their competitors.
While a Casio will never achieve the same sound that a good Kawai or Roland can produce, in terms of bang-for-the-buck, a $1,000ish Casio digital piano can perform on par with models several times its price. It's a great option for beginners, and musicians who want a quality touring keyboard without a huge investment.
Kawai – Long an unrecognized innovator in home electronics, Kawai has a reputation for subtle quality. Any Kawai instrument will have great sound and a long life; their products just don't get as much publicity or recognition despite having some of the most popular pianos in the world.
The selling point of Kawai's digital pianos is their electronic integration. Generally, a Kawai digital piano has more options for MIDI, USB, and other digital hookups required to make a digital piano part of a modern recording studio. If you're a musician or composer who works via computer, Kawai's digital products are a great buy.
Yamaha – When it comes to digital instruments, you'll rarely be making a poor purchase when you buy Yamaha. As one of Japan's most enduring industrial manufacturers, Yamaha has long had a focus on musical instruments, even as they branched out into a wide range of industries. As such, Yamahas have become mainstays of both the digital and physical piano trades.
While some of the most expensive digital pianos on the market, the Yamaha AvantGrand series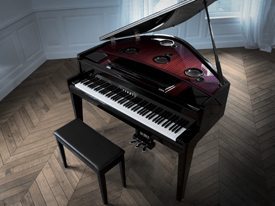 has been making waves for their innovating blending of electronics and traditional piano elements, keeping as much piano design as possible while making room for digital sound reproduction. The result is amazingly lifelike, giving people the flexibility of a digital piano with the polish of an acoustic instrument.
Roland – Since the 1980s, Roland has reigned as the worldwide king of electronic keyboards and recording equipment, and that reputation hasn't changed. When you buy a Roland digital piano, you're paying top-dollar, but you're receiving one of the most-accurate and best-sounding models on the market.
Combined with a wide range of interface and hookup options – from a company that pioneered many of them – Rolands are among the best digital pianos on the market. However, at the prices they charge, good-quality uprights and baby grand pianos are also an option, so think about whether it's worth the extra money for an electronic model rather than acoustic.
So, has anyone out there purchased a good digital piano lately? Let the world know what you got, and what you think of it!
image 2 credit:usa.yamaha.com