Many customers ask for advice when they are looking at buying digital pianos. I decided to put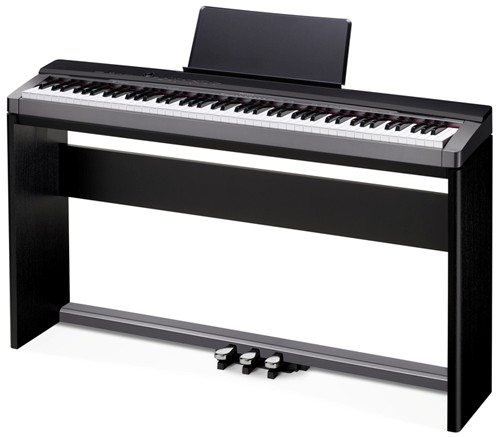 together a buying guide to help you and other people choose the right digital piano to purchase. Given that most of my customers take piano lessons on full-sized, conventional pianos, I am going to advise you from this particular angle, but I will add other factors that may be useful as well.
Consider the 88-Key Digital Piano
It is advisable that you purchase a digital piano that has 88 keys, because it makes it much easier for you to transition back and forth from a smaller keyboard to a full-sized instrument. Playing the piano is a muscular and visual activity and if you get used to a smaller digital piano, it can be difficult to adapt to a full-sized instrument.
Weighted Action
In the past, a customer one day told me that he played a cheap keyboard and noticed that the keys felt thin, as if they were made out of plastic. He never wanted to play a keyboard ever again because of the keys. I told him that he should have played a keyboard with weighted keys, because these keys were akin to an acoustic piano.
Therefore, if you want to look at digital pianos to purchase, you should ask the piano dealer to show the models with weighted keys. Keep in mind that non-weighted keys offer a much different action type that can be relatively distracting to most individuals.
Velocity Sensitivity
Playing a digital piano without velocity sensitivity can certainly destroy your concept and touch of dynamics, as there will be none. This may sound complicated to you, but what this means is that the harder you press a key, the louder the sound will be that it emits, and that is precisely what you want, because it helps you to become a better player. Playing dynamics on acoustic pianos require the proper method and touch, so it is imperative that you buy a digital piano that comes with velocity sensitivity.
If you do not know how to determine if the digital piano has this feature, simply play a tune softly, and then, hard, and take notice if the volume varies. If there is a change in the volume, then the piano most definitely comes with this particular feature.
Headphones are Important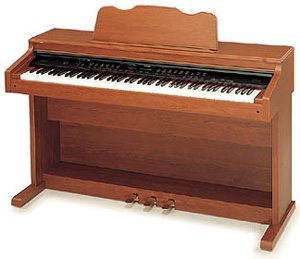 When customers come in to my store to purchase a digital piano, I often advise them to purchase a set of headphones as well. Most upcoming musicians like to practice at night, thus, having a set of headphones allows them to plug in and practice without disturbing other people around them. All digital pianos consist of a headphone jack, but to be sure, it does not hurt to make 100% sure, before you purchase the instrument.
Choose a Brand that You Know
There are various brands that produce quality digital pianos. My advice is usually to go with a brand that you know well and have heard of before. Yamaha and Korg produce high quality keyboards and pianos, and they are widely known throughout the industry. If you are not familiar with these brands, then you should talk to friends or other piano students to find out more about the brands that they are familiar with.
Alternatively, you can ask piano teachers or piano dealers in your neighborhood. Obtaining information or recommendations from people who have hands-on experience with various digital piano brands are always extremely useful. I would furthermore advise you to test a few different units before you make your final decision.
Which brand of digital pianos have you heard of or played before?