Throughout written history music has been one of mankind's finest accomplishments.  It is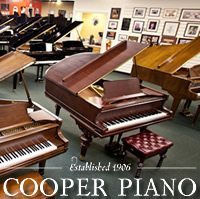 through music that civilization has progressed.  Through music men have made their mark in history.  Music can evoke human emotion and stimulate thought; and music has brought joy to human hearts throughout countless ages.  For over a century Cooper Pianos has served to that purpose.  Since the founding of Cooper Brothers Inc. in 1906 the business has gone through an evolutionary process which began with the crafting and selling of pipe organs and progressed into pianos, new products, and services that carried the business across the generations.  But what made Cooper Piano such a success that they have provided Atlanta with the gift of music for so long?
What is the secret to Cooper Piano success?
Cooper Piano is more than just a business, or a way to make a living.  Cooper Piano is a family legacy that has become one of the nation's largest and most respected music retailers.  The secret to their business success is really no secret at all.  The key is the reliable service that has become a way of life.  Services include:
Piano appraisal and consignment
Piano tuning, repair and restoration
One good thing the business gives to all music lovers is that they offer the option to either buy or rent their new piano.  If they have just moved in to a new home or apartment and they have an interest in music they can rent a piano to determine whether it is the right instrument for them.  The rental choice is good for those of us on the move who cannot take a big piano with us if we suddenly have to go elsewhere.  A rent-to-own gives me the option to keep it for six months before I make my final decision. 
If my piano is my pride and joy and if for any reason I have to leave for a little while or I am moving and cannot take it with me right away there is no need to stress, because Cooper offers a piano moving and storage service.  Their service is fully insured and they will take great care of my investment, providing only the best piano movers to come out and transport my piano to a safe and climate controlled storage center where it will be wrapped in blankets and stored securely until I return for it.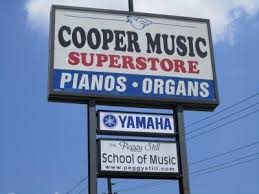 Insuring my piano or planning my estate for my kids may require a piano appraisal to determine its value.  No longer will I have to stress out about the value of my musical investment, because Cooper Piano offers an appraisal service to meet that need.  If consignment is needed for any reason such as selling the piano to a serious buyer they offer a consignment service that will take over the task so that I am not overwhelmed.  Their trustworthy representatives have serviced every type of piano on the market.
A piano is a thing of beauty that can fill the entire house with music.  However, factors like temperature changes or humidity can cause piano components to swell or contract affecting tone and pitch.  The quality of sound may no longer be what it was when I first started playing.  The standard pitch should be A-440 cycles per second.  If not then the piano needs to be tuned.  Cooper Piano will send someone out to make sure that my piano remains in perfect working order and properly tuned so as to assure my piano will continue giving years of joy.
What is the incredible value placed on honest quality service?  The people at Cooper Piano know.