Here's a piano trivia question for you:
What do the great composers Béla Bartók, Igor Stravinsky, Leonard Bernstein, Stephen Sondheim, Dave Brubeck, Philip Glass, and John Williams all have in common?
They all preferred Baldwin Pianos for composing and performing.
If you're looking for a great piano at a good price, just without quite as much brand recognition as Steinway or Bösendorfer, look for a Baldwin piano sale. Baldwin, the largest US manufacturer of pianos, offers a wide range of fine instruments. And, despite their reputation as a pricier brand, they make instruments that can fit into any virtually any home and budget.
About Baldwin Pianos
The original Baldwin piano sale was actually a retail store. They began as a piano store in 1857, and they quickly became one of the biggest dealers of pianos in America at the time. After several decades of success in this field, they turned their attention to creating pianos instead, resulting in their first model – an upright – in 1891. Three years later, they had created their first Grand.
From that point, until today, Baldwin has focused on creating some of the best pianos on the market, interrupted only by the outbreak of World War II, when their factories were turned to airplane part manufacturing. Yet, rather than setting them back, they learned new woodworking techniques from their war effort, allowing them to innovate once peace returned.
From then, despite some financial problems in the 80s and 90s, Baldwin has continued to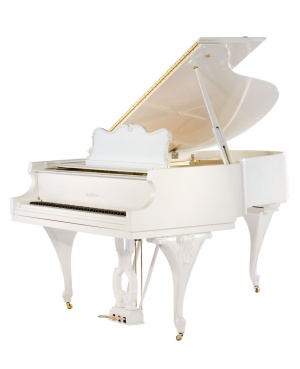 produce excellent instruments across the board.
Baldwin Piano Sale Pieces To Watch For
At the bottom of their price range, they have nearly a dozen different models of upright pianos which can be had for between $7000-$10,000. In fact, their all-time bestselling model is the B247 upright, which they have manufactured constantly since 1937, aside from during the war.
Like all of their inexpensive uprights, the B247 is a lovely piece with subdued design and a sleek ebony finish that will fit in with any furnishings. The B247 features exceptionally responsive key action, and strings which are comparable in length to their smaller grand pianos. This affordable upright has grand piano sound in a small package that can go anywhere.
If you're looking for a grand or something a bit more expensive, their horizontal models begin at about $15,000 with their BH146 baby grand. It's only 4'9" in length, but still produces excellent sound and is a remarkable value for someone looking for a concert-quality grand piano that can still fit into a normal house or apartment. If you find this at a Baldwin piano sale, you'll know it's a great purchase.
Of course, Baldwin makes plenty of more expensive models as well. Their top of the line concert grand is the BH275. These grands are hand-crafted, taking six weeks to construct, and built from the finest maple and spruce woods available. The design is classical and timeless, with brass hardware and inviting curves that practically beg you to feel its action.
This magnificent, 9-foot instrument is equally at home in a ballroom or as the centerpiece of an orchestra, and has been used by many of the world's greatest pianists.
Renting a Baldwin Piano
Understandably, not everyone can afford a Baldwin piano sale, or are on a limited monthly budget. If you want a Baldwin, renting is always an option. With low rates and an option to rent-to-own, there's no need to have a lot of cash on-hand. If you want Baldwin quality, it can still be yours at extremely affordable rates.
Common wisdom among piano owners is that you can't go wrong buying a Baldwin, and we heartily agree. However, playing is believing. Visit a quality Baldwin piano dealer and try it for yourself!
What experiences have you had with a Baldwin piano sale? Let us know!