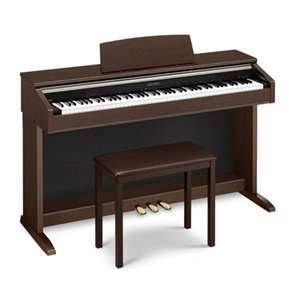 Traditional pianos are acoustic pianos, with sound produced when keys are touched, causing internal hammers to hit strings that vibrate and produce musical notes. A acoustic digital piano, however, is an electric piano with additional capacities that sounds just like an acoustic piano and therefore is often called a digital acoustic piano.
Digital Acoustic Pianos
A acoustic digital piano uses a variety of tools such as speakers, amplifiers and digital sounding boards to create the same sounds as a traditional acoustic piano. The keys weigh similarly to a traditional acoustic piano so that playing the digital acoustic piano feels much like playing a traditional piano.
Digital Acoustic Piano Components
A digital acoustic piano has a weighted keyboard and a set of sensors that feel the strength of which the keys are pressed to create the corresponding sound, using a microchip that understands the right kind of sound and volume necessary according to the way that each key is pressed. There is also a set of amplifiers, a sound back and speakers, as well as headphone jacks so that the musician can hear the sound privately.
An acoustic digital piano buyer should note that digital pianos may also offer other sounds and electronic choices, such as the ability to create the sound of a harpsichord or an organ.
Benefits of a Digital Acoustic Piano
Digital acoustic pianos look very much like a traditional acoustic piano but have some additional benefits, such as weighing less than a standard piano and the ability to disassemble the piano if necessary.
In addition, a digital piano does not go out of tune and does not require the same repair, maintenance or tuning that a traditional piano will need on a regular basis. The volume on a digital acoustic piano adjusts or eliminates with headphones.
Of course, there is the benefit of technology, since a digital acoustic piano attaches to a computer, iPad or other technology to help compose, play, record and play back music.
Disadvantages of a Digital Acoustic Piano
While there are many benefits to a digital acoustic piano, there are also some drawbacks.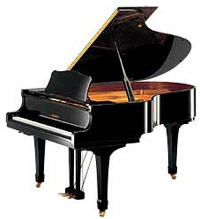 For instance, the tone of music made by an acoustic piano can change slightly or dramatically, creating sweeping changes in volume, tone and composition. Since a digital piano produces digital sounds, no matter how sophisticated, the sound will never be precisely the same as a traditional acoustic piano, which should be considered as an acoustic digital piano buyer.
Purchasing Tips
When deciding on what piano to purchase as an acoustic digital piano buyer, test out many floor models. Play the digital piano aloud and bring a set of headphones so that you can hear how it will sound through headphones as well.
Check out the features of each digital piano and consider the specific characteristics that you are seeking for the piano for your purposes. Select a digital piano that meets your needs and is not necessarily the newest or coolest model on the floor.
Spend time playing each digital piano and experiment with the feel of the keys, the response of the pedals, the range of the speaker system, the different electronic options, the range of the tone and the sound, and play different types of music at various volumes to see how you like the resulting sound.
What do you think? Which is better, a traditional acoustic or a digital piano?