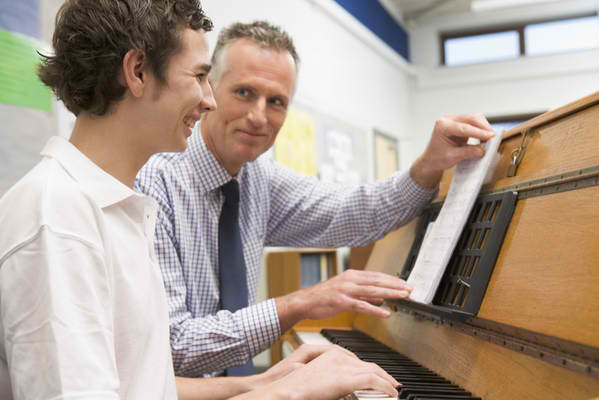 There are numerous advantages of playing piano that go far beyond a better appreciation for both music and the achievement of a new skill. If you are still not convinced about taking up piano lessons or sending your child to learn the piano, the following six benefits may just help you make the decision:
 1. You will be better at accepting criticism
 To obtain the most from the benefit of playing piano, it is essential to hire a highly qualified piano teacher who is more than able to provide constructive criticism. This allows you to work harder at playing better. When you see a piano teacher as an expert in the industry, it is much easier for you to accept his feedback and advice. The ability to respond to criticism and learn from it will normally carry over to other areas of your daily life, such as work and school.
 2. You are able to improve your ability to handle stress
 Performing in front of a big group or participating in piano recitals can help you deal with stage fright. All the practicing leading up to your performance will also help you learn about self-discipline, goal-setting process and dedication.
 3. You can learn to react well to disappointments and achievements
 Through performing in front of your family and friends, or in piano recitals, you are able to deal with disappointments and of course, achievements. A good piano teacher can help you learn how to sustain a positive outlook, even when you are facing a problem in learning to play piano.
 4. You can increase social participation
 Your capability to play in front of your audience is an imperative social skill. It is an amazing way to share your skills with others. Through this, you may find yourself growing your network, as you put yourself out there.
 5. You are able to strengthen your hand muscles
 Piano playing is can develop your child's dexterity and for maintaining strength in your hands. However, in order to strengthen your hand muscles, you need to learn the proper way of playing piano. In order to learn to play properly, you need to hire a professional piano teacher.
 6. You can improve your school or work performance
 Numerous studies carried out by researchers have proven that playing piano can improve one's school or work performance. In children, it can help improve their spatial cognitive and mathematics skills. For adults, it can help improve their work performance and improve their thinking skills.
 Do you know other benefits to playing piano?