A Yamaha piano is not the type of item that is bought with no specific use or need for it.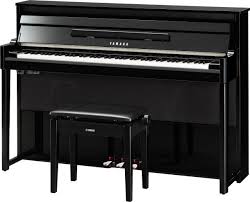 Depending on your needs, the purchase can be a costly one, or more affordable. Large numbers of people feel that sending their child for piano lessons would probably necessitate the purchase of an affordable upright piano until the child shows true talent and a desire to continue the music lessons. A good piano teacher would tell you that a quality piano is usually expected to be more exciting for your daughter or son to play.
Regardless of the piano type that you are considering to buy, it is vital that the instrument is in a very good condition and in tune, in order to encourage you or your child to play even more. I think it is crucial to consider a piano that you can afford to buy even if it costs between $10,000 and $15,000. Pianos can be traded up as your needs change and the only time that you may experience a financial loss is when you or your child does not want to continue playing the instrument.
Where to Find the Best Priced Yamaha Pianos
Here follows very useful tips to find the best prices for a Yamaha piano:
Visit Various Showrooms
It is essential that you take the time to visit various piano showrooms in your district and to become familiar with the many Yamaha piano models offered. You need to test several models to determine which one is most suitable for you. If you are a new piano student, you may want to ask the sales executive to play a few pieces in major and minor scales.
Listen intently to each piano, because every unit has a slightly different sound. You will find that some pianos produce a soft sound, while others may emit a mellow or brilliant sound. When you are shopping around, consider the size of the musical instrument, particularly if you do not have much space available.
Types of Pianos
When you are thinking about buying a Yamaha piano, it is crucial to choose the piano type, so that you can focus on that particular type, for example a grand or an upright piano. Below are a few relevant things that you should know about these piano types:
Grand Pianos – The grand piano ranges in size, from below 5' to 9' (typically known as a concert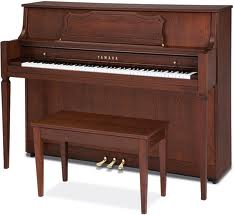 grand piano). A piano that is around 5' is known as a baby grand piano. Grand pianos have a fast touch response and are more powerful than upright pianos. A majority of people enjoy playing grand pianos more than they do playing the uprights. Nonetheless, a few larger models can actually produce equal or better tonal quality than many small grand pianos.
Upright Pianos – This piano type ranges in height from 36 to approximately 51 inches. Each upright Yamaha piano requires the same amount of space, which is about 5' by 2'. The largest upright piano is called the studio piano and it stands at 44" or more.
When you are 100% sure about buying a Yamaha piano, it is essential that you take the time to conduct as much research as you possibly can in regards to the piano and the piano dealer. The best place to buy a piano is from a private dealer who has his own showroom. If you were looking to acquire a secondhand unit, I would advise that you find and bring a reputable RPT with, so that he can scrutinize the piano and ensure that it is in a good condition. You may also want to search online for the best price for Yamaha pianos, because I can assure you that you will come across some very affordable Yamaha units.
Do you prefer to own a upright or grand piano?