While not as well-known as Steinway, Knabe pianos have nearly as long a history. One of the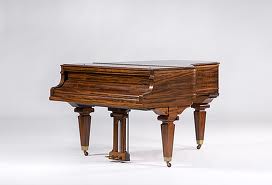 oldest American piano brands, Knabes have been produced continuously since the 1840s. Despite numerous ups and downs over the decades, Knabe has maintained its focus on crafting beautiful instruments with a sound that's famous around the world.
Knabe's focus is on quality and craftsmanship – these are pianos designed to be the centerpiece of a room. Even their vertical line dominates with a rich, full tone that makes it the focus of attention whenever people are around.
If you're in the market for a Knabe, whether it's a new model or a restored pre-owned piano, there are certain hallmarks to the brand, and certain things you should look for when making a purchase. It's especially important to pay attention to the details if you're purchasing a used piano, to ensure you're getting a true value.
How To Know You're Getting A Great Knabe Piano
Check the finish.
One of the distinguishing touches that mark a Knabe piano from the rest is the care they take in finishing every piece of wood on their instruments. It's a detail that plenty of other piano-makers overlook, as you can see for yourself if you look inside most other pianos. By taking the time to fully finish every inch of their pianos, Knabe ensures an incomparable consistency of tone and feel.
If your Knabe isn't fully finished, or the finished is scuffed on the inside, it's usually a sign that it hasn't been properly treated or restored. The finish is one of the most prized elements of a Knabe, so make sure you give it a good look-over to ensure it's still rich, full, and unblemished.
Hear the sound.
A Knabe is a piano that looks as good as it sounds. And it sounds great, with an extra-rich tone that's often compared to the sound of the human voice. The Knabe sound has a sonorous, organic quality that few other pianos can match. This rich, emotional sound adds an extra dimension to every piece played, and it's one of the reasons the Knabe name is still so respected today.
Once you've heard a Knabe, you're unlikely to forget it. Beyond simply being tuned, a Knabe should have that moving, voice-like quality you don't hear from other pianos. If not, ask about its maintenance – it may have been repaired without using proper parts.
Try the action.
Knabe uses only the finest German actions in their pianos, and that means reliability. Constructed of the finest selected woods, like maple and European hornbeam, a Knabe action strikes just the right balance. Not too heavy or too light, the keys of a Knabe should flow under your hands with a constant precision, note after note.
When you're checking the action, be sure you test out the full range of the keyboard. Besides hearing for yourself the superior range and sound of a Knabe piano, you'll know that it's been properly maintained and cared-for if every action is smooth and responsive, as expected of a Knabe.
By now, you'll be able to tell if you're sitting in front of a Knabe that's going to providing incredible music for years to come. When properly maintained, that deep finish and song-like voice will remain strong for performance after performance, impressing through both sight and sound.
Of course, nothing convinces like getting one's hands on a Knabe. So, if you're like to hear that distinctive Knabe voice for yourself, just make an appointment to give one a try at our convenient showroom! After all, no one can fully appreciate a Knabe until they've made it sing for themselves.