Piano moving is a daunting job that requires planning, preparation, and a great deal of effort.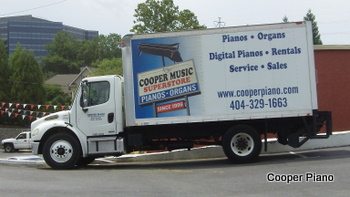 With the smaller upright pianos weighing in at 300 pounds and the largest grand pianos weighing over 1200 pounds, pianos are very heavy. The finishes on most pianos are delicate and are susceptible to scratches, nicks, and dents. I would usually recommend hiring professionals for piano moving, however, if you are going to move your piano yourself, here are five important mistakes to avoid.
 Don't try to move your piano without the right equipment. Cutting corners and saving money here will only result in injury or damage to your piano. Use a dolly that is large enough, moving straps, padding, and moving blankets. If you do not own this equipment, contact a moving company, truck rental company, or piano moving company and ask about renting the equipment.
Never lift a piano by its legs. The legs of a piano are the most vulnerable to breakage and if you lift a piano by its legs, the weight balance can shift easily causing a leg to snap. This will not only damage the piano, but can put the people underneath the piano in a lot of danger. Also, never push a piano around by its casters. They are mostly decorative and will deteriorate over time. They are likely to break or come off entirely causing damage to the piano and the floor.
Do not move your piano without securing the lid and wrapping the piano securely. If the lid has a lock, I like to make sure it is closed and locked. Wrap the piano tightly with padding and moving blankets and secure the blankets with tape. Do not, however, allow the tape to contact the piano's finish as this will cause damage. If the lid does not lock, make sure it is closed tightly, and use a moving blanket and tape to secure it.
Do not begin moving your piano without knowing your route beforehand. Have it completely mapped out from start to finish and make sure everyone helping you knows exactly where to go. Measure all openings, doorways and hallways. Prop open doors, open moving trucks, and clear the path before beginning.
The biggest mistake to avoid is not knowing when to call it quits. Sometimes, the job is just too big and you must know when to walk away and call a professional. Especially when a piano needs to be carried up or down several steps, the job can become overwhelming very quickly. Do not endanger yourself, your friends, or anyone else you have helping you and do not risk destroying your piano.
There is a lot to think about when considering piano moving on your own. It can be quite possible to move a small upright piano yourself, especially if you have the right equipment, enough help, and an easy path. If you do not need to carry it upstairs or through any tight spaces, it can be done. When considering the move of a baby grand or a grand piano, I generally recommend hiring a professional. The larger size and unusual dimensions of these pianos make them exceptionally difficult to move and experienced professionals are better able to handle the difficult job.
Whether you move your piano yourself or call in a professional, make sure your piano's new home is against an interior wall, if at all possible, away from ducts, vents, and windows. Lastly, I always recommend that you have your piano tuned after it is in its new home as the jostling of moving and the differences in humidity from its old home to its new can cause a piano go out of tune.