Grand pianos are often the first choice for many people who want to own a musical instrument.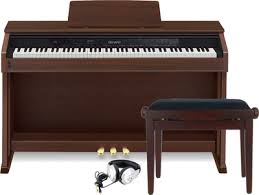 However, after going through the many selections in various piano stores, most people conclude that a grand piano is too big and costly. Additionally, maintaining a grand piano is not as easy as many people assume it is. For that reason and many more, I usually advise people to consider the Celviano digital piano.
The aforementioned digital piano is from Casio and it is a good solution for individuals who crave for amazing sound production and chic aesthetic value. A majority of my customers who have had the pleasure of playing the Casio digital piano, and even owning one, claim that it is a mean exotic machine without the cost and weight of a grand piano.
The following are a few features that you should know about when you are looking for a Casio digital piano:
The Touch Response and the Feel are Akin to a Grand Piano
The Celviano instrument has all the best features that are similar to those of a grand piano, and so much more. One of the features is that all 88 keys come with a technological 3-triple sensor weighted hammer action. In addition, the digital piano comes with Sostenuto, Soft, and Damper pedals as well as a music stand. With its ivory keys and the abovementioned features, I truly feel as if I am playing a grand piano!
If you are considering a grand piano, you might want to give the digital piano a thought first. It weighs only 82.2lb and yet, it consists of everything that often makes a grand piano the best choice. The digital piano is easy to move around, particularly if you are undecided about its exact position in your home. However, the best thing about it is that once you start playing, your neighbors will automatically assume that you have just bought a grand piano.
The Instrument Comes with Additional Digital Gizmos
When you are looking at purchasing a top quality digital piano, it is imperative to consider one that has plenty of digital gizmos. This allows you to create your own music with various sounds and tones. One of my customers who recently bought a Celviano said that every piano player who tested the digital piano could feel and hear the technology-based benefits that it has to offer. It has the capability to achieve things that a conventional piano cannot.
One perfect example is that the digital piano comes with a SD memory card and USB port. This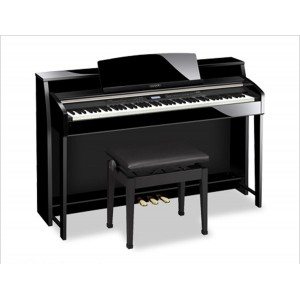 means that it allows players to record everything that they play and it is possible to replay the piece much later. This is an added advantage for players who want to unite two or three tunes in one composition without the benefit of having another player or instrument.
The Sound Quality is Superb!
Although anything is possible when it comes with the latest and best technology, what startles me is the fact that Casio does not make it a point to make its Celviano better than any grand piano on the market. Its objective is simply to design a musical instrument that offers the touch response and feel of a grand piano, and nothing more than that. In order to accomplish the acoustics of a conventional piano with finely tuned strings and weighty harps, the manufacturer has spent hours to construct 20-watt speakers that produce very similar grand piano sounds and tones.
I would highly recommend that if you want a lightweight musical instrument that is not expensive, but has all the qualities of a grand piano, that you opt for the highly rated Celviano digital piano. Visit my store today or browse my website for additional information in relation to this musical instrument.
What do you like about a digital piano?