An Upright Piano's Journey Home
Imagine my father's face when I came home from school one day and asked for a check to pay the teacher for six piano lessons that I had already taken. I was only in 6 th grade and unbeknownst to my parents; I went to my school's music room and requested lessons. Luckily, my father not only signed the check but also allowed me to continue to take lessons.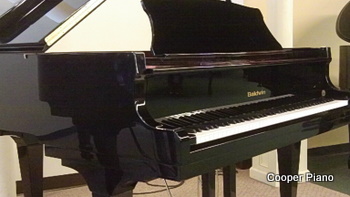 Now, imagine my face when my father surprised me with a piano for my birthday—I was ecstatic and beyond happy. I would run home from school just to practice and learn new songs and after some time, a few recitals and much
determination, I became pretty good at it. I wasn't a prodigy but had talent and could play quite well and I filled the house with music on many occasions. It became a family tradition to gather around the piano—sing and laugh.
Several years have passed since then and my piano has traveled with me from Pennsylvania, to Florida, California and now resides in New York City.
Purchasing a piano is a one-time occurrence; I still own that beautiful upright piano that my father gave to me as a birthday gift.
The ABCs Of Buying A Piano Are Easy As…Do, Re, Mi
I recall him telling me how he came upon it. He was in our local piano store in a small town where he discovered it in the corner. The owner informed him that aside from the grand piano models, all pianos are vertical: spinet, console, studio and upright. He distinguished them in terms of height—the spinet being the shortest and upright being the tallest. The console and the studio are very similar in height but it's all determined by their "action" or position of hammers that hit the strings.
While I "love a piano," upright pianos are above par in my opinion because they have superior tonal quality. While the spinet may get your feet tapping, the full upright
fills the room with music from your toes to the rafters. It's not louder, it just a fuller sound.
The bottom line is a personal choice. The best decision is to take the first step in getting away from the TV and computer and filling your home with music. An upright piano may strike the right chord.