For children and adults alike, having a piano in their home is a
dream come true
. When it is time to make that once in a lifetime purchase, many steps and a great deal of time are put into finding the perfect fit. Therefore, owners are often leery when it comes to moving their piano. Piano movers are special, just as the instrument itself, and locating a mover who genuinely cares about this beautiful instrument is a necessity.
In the majority of cities across the nation, there are an abounding number of companies which specialize in moving your household goods. A company may have the proper tools, the know-how and the appropriate amount of movers to do the job. However, this does not guarantee that they have had sufficient experience with moving a piano. Pianos come in all shapes and sizes and the piano movers you choose need to be experienced and also must have compassion for this special instrument.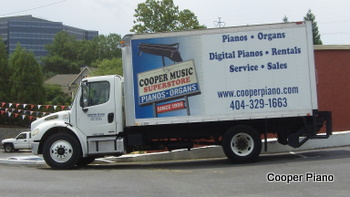 Without a doubt, the top choice for locating experienced piano movers, is through a piano dealer. Piano dealers do piano moving all the time and an experienced piano dealer will have a service department to tune and adjust the piano after the move. In order to locate a reputable piano mover, begin by contacting a local piano store who can refer you to a professional mover in your area. They can lead you to a piano mover who is experienced, licensed and insured. With the proper, trusted company, everything you need will be provided to ensure that the piano is loaded, moved and delivered without a hitch.
The same thoughtful consideration put into finding the perfect piano, must also be put into locating the right piano movers. At the end of the move, you will certainly appreciate the time and research you spent finding the ideal mover, as you sit back in your new home and play your beautiful music once again.