In a world gone digital it seems like everywhere you turn it's "out with the old and in with the new". Change is a good thing, but sometimes it can be hard to let go of the past. With the Celviano digital piano by Casio, you can have the best of both worlds. This digital marvel will give you an authentic grand piano experience with today's technology and a budget that won't blow a hole through your wallet. Both high quality and high tech, the aesthetically pleasing digital piano by Casio will make a fine addition to your living room.
The Right Look and Feel Experience the authentic look and feel of an acoustic piano with your digital instrument. Celviano digital pianos are fitted with synthetic keys designed to mimic the look of the real thing. Each of these 88 keys are weighted to feel like a traditional piano keyboard. In addition, digital pianos are equipped with three pedals. As you play from a sturdy, well-constructed bench, you won't believe your instrument isn't a classic acoustic piano.
The Right Sound Sound quality is of the utmost importance when selecting a digital piano. Celviano digital pianos have been designed to authentically recreate the complex sounds of a concert grand. In addition to a traditional piano experience, you can also try out the sounds of electrical pianos, bright pianos, harpsichords, synthesizers, strings, and more. As you play,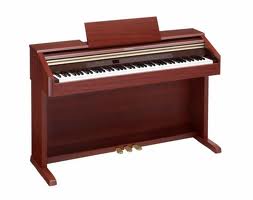 each of these tones can be layered and you can use the damper pedal without the fear of dropped notes or reduced sound quality.
The Right Fit You may be surprised how quickly you fall in love with your digital piano. You can turn the volume up and down at will, or plug in your headphones for a quiet practice session around the clock. A built in metronome will help you keep time, and the keyboard can be split into two parallel sections to allow for a two piano, four hands duet.
Lastly, your digital piano doesn't require the same maintenance as a "real" piano. You will never have to worry about piano tuning or seasonal humidity again. The Celviano digital piano line is perfect for anyone who wants an advanced playing experience without sacrificing the classic elements of a traditional piano. Both modern and authentic, the Celviano is sure to please even the pickiest pianist.