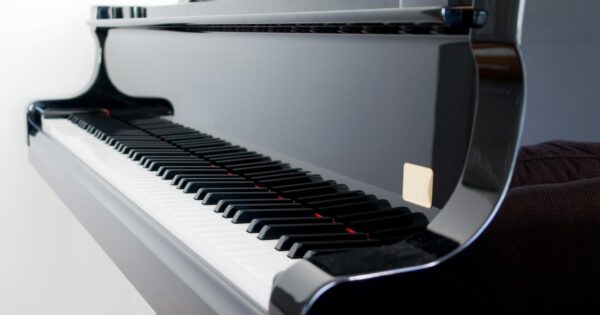 Playing piano is something you expect from a lot of famous musicians, but how about other types of celebrities, such as actors, directors, and politicians. After all, It's a tough skill to learn and takes time to learn. So it's rather surprising, when someone who became famous in a field aside from music, knows how to play the piano well. So who are these celebrities who are killing it with the piano?
Jamie Foxx
First up, Jamie Foxx is already a multi- talented man who is an actor, musician, and comedian. But, he also knows how to play piano like a great! In the movie Ray, where he takes on the role of Ray Charles, he is playing all of the pieces without any assistance, very impressive! He's even done impressions of Prince, so this man has a talent for the keys.
Jeff Goldblum
The actor famous for his roles in Jurassic Park and Independence Day also knows how to play the piano. He specifically specializes in Jazz, one of the harder genres to play on the piano.
Hugh Laurie
His role in the Fox TV show House is what made Hugh Laurie famous, but his skill in playing the piano is very noticeable. He released an album of him just playing the piano; then he proceeded to go on tour. So his side hobbies is a serious one!
Justin Bieber
A lot of people have a strong dislike for Justin Bieber, saying he is a no talent hack. But, when it comes down to it he can play many different instruments very well, including the piano, which he's been playing since even before he was a teen.
Vladimir Putin
The Prime Minister of Russia, Vladimir Putin is incredible on the piano. He played the piano on live television for all the world to see, and he showed that he has talent on the keys. Excellent job Vladimir!
Richard Gere
Richard Gere, known for movies such as Pretty Woman, American Gigolo, and Runaway Bride, started quite early as a musician. He played many instruments in high school and even wrote for the school's productions. He is so well versed in piano, that he also composed a piece of music for the film he starred in, Pretty Woman.
Clint Eastwood
The Western movie legend himself, Clint Eastwood was thinking of becoming a musician at one point in time, as he was an accomplished pianist before his acting kicked off. He has composed various pieces in a few of his films, such as Million Dollar Baby, Mystic River, Changeling, and Hereafter.
Condoleezza Rice
The first African-American Secretary of State, Condoleezza Rice learned piano when she was a teenager and was dreaming of becoming a concert pianist. Apparently, for some reason, she went another way and got her degree in Economics. But, whenever she gets a chance she still plays the piano to this day.
Dustin Hoffman
Known for films such as Tootsie and Rainman, Dustin Hoffman is well versed in piano.
Kelsey Grammar
Known for his role in Frasier, he played the piano throughout the show.
Britney Spears
Although Britney is well known for her voice, most people don't know that she can play a few instruments, including piano.
Sean Hayes
Well, known from Will and Grace supported himself as a classical pianist before he started making money from his roles.