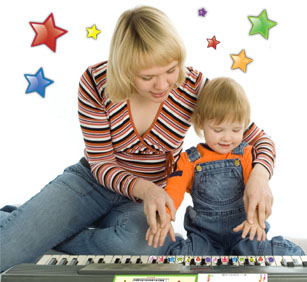 A groundbreaking approach to music instruction is making it fun and easy for children as young as 3 years old to learn how to play the piano.
Developed by Victoria Mandly, Play the Self-Teaching Piano Game for Kids is a colorful and exciting tool that children can use to identify and play piano notes and keys. Using bright colors, animal graphics and matching animal stickers that are applied to a keyboard, the game makes playing piano fun and easy.
And this user-friendly series of books requires no previous skills in music or piano-playing for either the children or their parents, for it also includes simple instructions on how to count basic music notes and beats.
"It is the only system that integrates colors and animal figures with actual musical scores," says piano teacher Mandly, who created the game when she wanted to teach her small children how to play the piano but could not find any engaging lesson books for their age group. Because most children love animals and bright colors, Mandly created her own piano lessons incorporating those elements with popular children's songs. "My sons connected with the animals and colors immediately and could play notes on the piano in minutes. The results were instant."
By associating the colorful faces of an Ant, Bird, Cat, Dog, Elephant, Frog, and Giraffe with the notes in a musical scale, "Children don't even realize they are learning to read music," says Mandly. "Yet, as they progress through the series, they learn and play more and more."
– Victoria Mandly