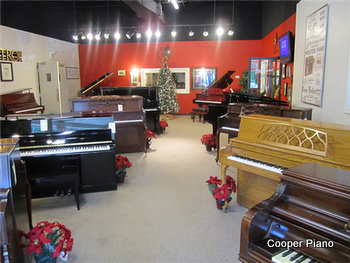 Quality and Price
Cooper's Music philosophy and belief are we can build a better world through music education. Our selling model is a direct piano dealership offering quality instruments at honest prices. We can do this by cutting out the middleman in our business of promoting pianos. For this reason, Cooper's Music is the best option for you when selecting a piano. We understand that the selection process can be difficult and confusing for the first time piano buyer. We help you make the decision with:
A large selection of piano brands and styles
An on-site expert who can review the instrument with you
An experienced piano player so you can hear the piano from a distance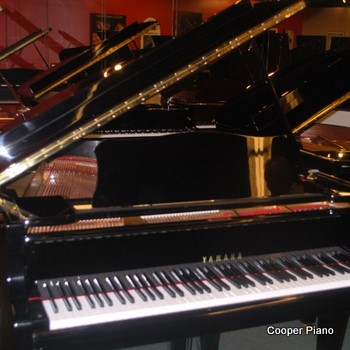 We also understand the buying process for an accomplished pianist can be emotional and close to the heart. We want you to take your time in our showroom, experience the instrument and let the wood and ivory speak to you. Buying a piano is a large investment of time and money and we will custom tailor a piano for sale and purchase for you.
Direct Service
The servicing and tuning of your new piano is important to the instrument, to you and to us. As important as the service, is selecting a consistant humidity environment in your home, church or business for your piano. We can help you with direct services such as piano tuning, piano moving and locating your piano. We can measure humidity and offer solutions for humidity problems. The life of your instrument is determined by the care and service you provide for it. We recommend you use the minimum rule of thumb services for your piano which is tuning at least twice a year. Cooper's Music wants to extend the beauty of your piano with our in-house services.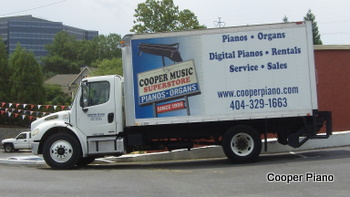 Care of your Instrument
When it comes to caring for your instrument, cutting out the middle man in a piano dealership is your best option. At Cooper's Music, we care about pianos as much as you do and we deliver all the services rather that sub contracting to a third party. We give the instrument the utmost respect when transporting the piano during shipping and receiving right up to delivery to your door. We keep the pianos in a climate controlled environment to avoid damage. Let Cooper's Music help you build a better world through music education.