Maybe you're just starting to learn piano, but not quite ready for the commitment of owning one. Or, perhaps you're waiting it out to make sure your child's interest isn't just a passing fad.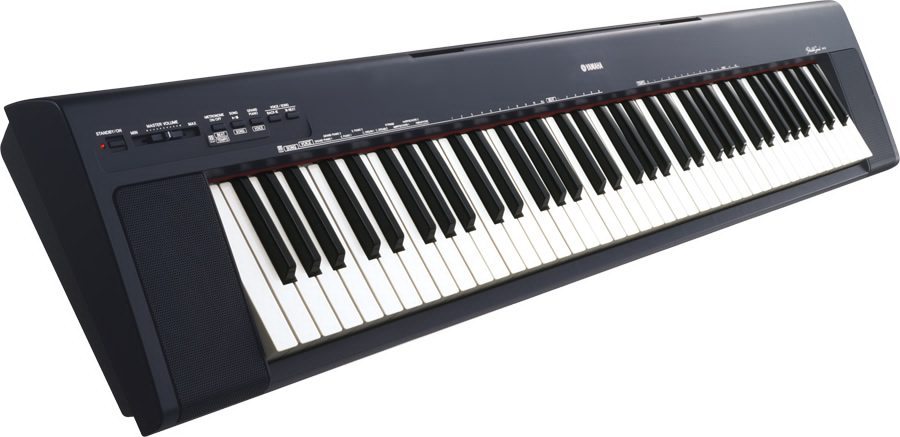 Whatever the reason, a piano keyboard can make an excellent piano substitute. As you consider buying one, here are a few things to consider.
Ask yourself the following questions: Does it actually produce sound akin to an acoustic piano? When you play a few keys, do the notes reverberate realistically? When you change the pressure on the keys, do the notes respond in the same way?
Weighted Keyboard
A high quality unit will have a weighted keyboard, which means that the keys are heavier toward the bass section and lighter toward the treble region. I recommend that you initially play the instrument for a while to check how your hands feel afterward. If your hands feel sore or tired, it may be an indication that the keyboard action is excessively weighty and you should not buy it.
Location is Vital
This may not make sense at first, but it is vital that you know where you will be playing the piano keyboard most of the time. If you are a frequent performer and you play regularly at performance venues, you should certainly consider a unit that has a built-in amplifier.
On the other hand, if the instrument is going to be placed in your room or living room more often, an incorporated amplifier would not be necessary. Nonetheless, you should find out if the unit comes with a headphone socket, so that you don't disturb your neighbors when you play the instrument.
Number of Keys
Piano keyboards come with different sets of keys. You will come across instruments that offer 61 keys, 76, or 88 keys. Choosing one depends mainly on the intricacy of the music that you will be arranging or playing.
I would suggest that you test each keyboard with a different set of keys first and foremost, as this can help you determine if you are comfortable with the sound that it produces and the overall feel of the keys.
Easy-to-Use Interface
Children generally love piano keyboards because of the interface. Many of them think this is the coolest part about these instruments.
When you're looking at buying a branded, high quality piano keyboard, you should choose one that has a well-lit, easy-to-use interface. The assortment of controls should be logically placed and sufficiently sturdy.
Additional Features
Do you need a piano keyboard with a Smart Card slot or USB connection? If you are a serious keyboard player, then you should look for a unit with all the necessary features. I have several piano keyboards on offer that come with a built-in sequencer, a metronome, a Smart Card slot to enable the downloading of songs and various styles, built-in amplifiers, and more.
Regardless of the instrument type that you want to purchase, I would recommend that you read a number of online reviews written by other owners or professional pianists first. This will greatly assist you with your final keyboard choice.
Once you make your decision regarding what instrument you prefer to buy, you need to look at what keyboard brands, styles, models and sizes the piano dealers in your area have available.
Find out as much as you can about the manufacturers and ask the piano dealer for some advice as well as expert recommendations. You should remember to only consider buying an instrument that your budget permits.
Want more information about our electric keyboards? Just enter your information below!
Have you played a piano keyboard before?