A baby grand piano is a very popular choice for people who want a beautiful piano that is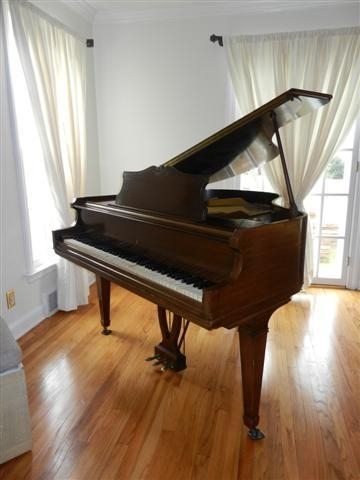 reasonably priced and does not take up a lot of the space in their house or wherever they plan to display it. If you are looking at buying a baby grand piano, it is important to find out as much as you can about this type of piano.
General Ideal about Baby Grand Features
Almost all piano brands produce baby grand pianos. Although baby grand pianos are rather standard when it comes to their sizes, each unit from each international brand has its differences in features. The baby grand is said to be the foremost piano to buy because it is small, but it still produces a resonance sound. If you are thinking about buying one, the following tips are something I would suggest you take into consideration first:
Distinctive Features of Baby Grand Pianos
Every baby grand piano has its own sound or voice, as many individuals call it. There are also a few factors that can influence the sound of the piano, such as the size of its soundboard, the quality of craftsmanship, the length of the piano strings, and many more. For a piano to be classified as a baby grand, it has to be shorter than 5'6" in height. Nonetheless, you can find grand pianos that are rather "medium" in size, albeit being the same size and height.
The smallest baby grand manufactured to date is measured at 4'11" and any piano smaller or shorter than this is called a petite grand piano. If you want a piano that generates a very rich and sonorous sound, you should look for one that is long – the longer the piano is, the richer the sound will be that it produces.
A baby grand piano's sound changes to a certain extent, especially if it is a brand new unit. This normally happens during the first few years after you bought the baby grand piano. You can easily and almost instantly hear the differences between the longest and the shortest piano models. If you want to buy a baby grand with the best sound, it is advisable that you buy one that is about 5'4" in length. However, you should definitely make sure beforehand that you have sufficient space in your house to accommodate the unit that you consider buying.
Materials for Baby Grand Pianos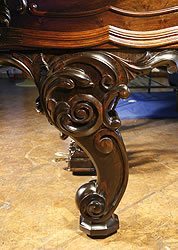 Most baby grand pianos are made from the best quality materials, and many people prefer this piano type because of the aesthetics it offers. While a majority of baby grands is made from wood, you will find some that have been constructed from fiberglass or lacquer. You will also come across more affordable units that are made from a blend of various materials that are sold in unique designs and solid colors.
The piano keys can be constructed from numerous materials, which usually include spruce, mother of pearl, basswood, plastic, and ebony. In the past, ivory was also used to produce the piano keys, but given that, ivory-yielding species are deemed endangered and therefore, protected, manufacturers had to find an alternative material to use. If you want a baby grand piano with carvings on its legs, you can find it in various leading piano shops.
Manufacturers may sell baby grand pianos with carved legs at a much higher price, but with the intricate design, the money you spend will certainly be a worthwhile investment. I would recommended that you visit a reputable store in your region if you are considering a baby grand piano. A highly experienced piano dealer can advise you on the best model and brand to buy, such as Steinway's M or S baby grand models.
Do you read piano reviews before you purchase a particular piano?